Ever considered how difficult carpets are to recycle? The mixture of different cheap synthetic fibers makes carpet very difficult to recycle and if they are incinerated they emit harmful fumes.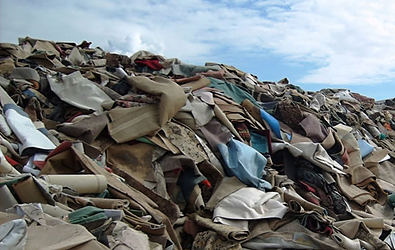 Credit: Sustainable Activewear
Reducing your carbon footprint is always associated as a trade of between style and function. However, as technologies and eco-friendly styles evolve, some of the most stylish flooring options on the market today actually have amazing aesthetic properties.
Here we explore some of the more popular eco-friendly flooring options.
1) Recycled hardwood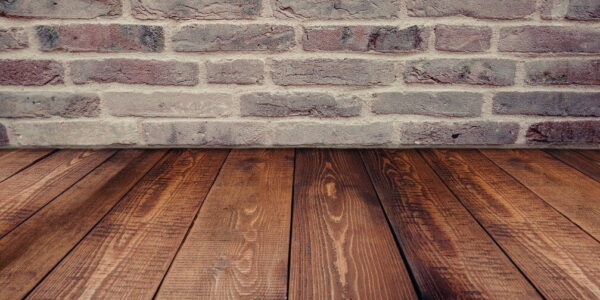 One of the key things to reducing your carbon footprint is to recycle. Typically, hardwood flooring that is replaced is destroyed. Recycling someone's old hardwood flooring in your home extends the product's lifespan meaning less trees are cut down for human flooring.
Recycled hardwood also gives your home a vintage sense of grandeur, hard to recreated with flooring made from broken down recyclables.
2) Marmoleum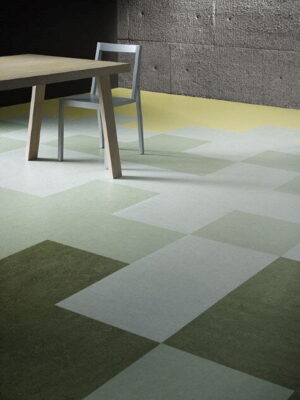 Marmoleum is a type of linoleum that is made from 97% natural materials, of which 72% grow back within 10 years. Moreover, Marmoleum uses recycled materials and is 100% biodegradable. Forbo flooring, the manufacturer, creates their linoleum in a production site where 100% of electricity comes from renewable sources. Marmoleum is an incredibly vibrant flooring option that is perfect for spaces looking to create a modern vibe.
3) Cork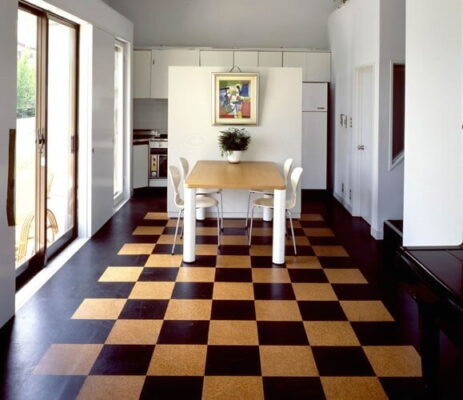 Credit: Corksribas
Cork, in general, is a highly environmentally friendly material, not only for flooring. This is because cork comes from the bark of a cork oak tree, the regular harvesting of which causes no damage to the environment or the tree.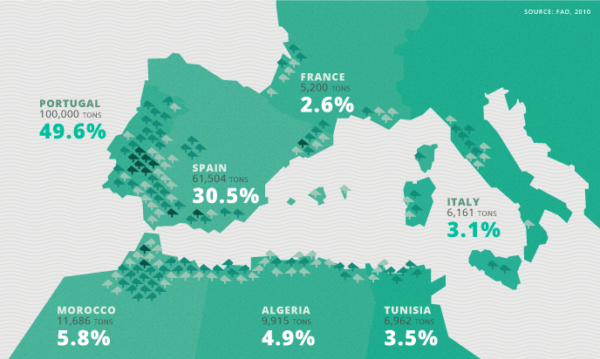 Image source: Amorim
The only real concern is the carbon footprint associated with the distribution of cork. Most cork comes from two countries in Europe; Portugal and Spain. Whilst Europeans can have a relatively environmentally friendly flooring option with a low carbon footprint in cork, every other continent must factor in the fuel used to transport the cork there. This makes cork more expensive in the states, but offsets demand and avoids overexploitation of cork.
Cork flooring can look amazing and is certainly a very quirky and unique choice of eco-friendly flooring as it is only now starting to catch on.
4) Glass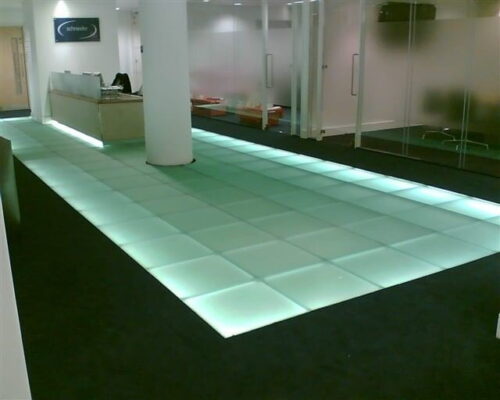 Credit: RMF
Almost all glass is 100% recyclable and can be recycled an infinite amount of time without losing quality. Glass flooring is only really starting to catch on now. This is partly due to the eco-friendly properties of glass. Glass tiles make an excellent choice of eco-friendly flooring as the floor can be made from 100% recycled materials and can be 100% recycled once discarded.
Glass flooring looks both sleek and stylish, perfect for a modern office. However, glass flooring can be extremely expensive!
5) Bamboo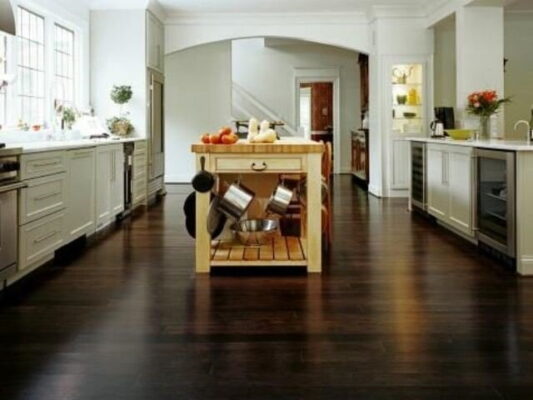 Credit: DigsDigs
Bamboo is recognised as a sustainable material as it grows in abundance in many parts of the world and is even considered problematic for some as it takes up farming space. Anti-bacterial, water resistant, durable and malleable, it is a wonder bamboo has not been used more extensively in the past.
Be careful when buying bamboo, however. Standard bamboo flooring has hardwearing properties and is perfect for low to moderate traffic areas such as a bedroom or living room. However, high traffic areas such as a kitchen, hallway or business premise may wear out standard bamboo flooring.
Only strand woven bamboo flooring should be used in busy areas as it is twice as durable as horizontal and vertical bamboo.
Bamboo flooring looks very similar to wood and, dependant on the finish, looks perfect in both modern and traditional spaces.
6) Natural Carpet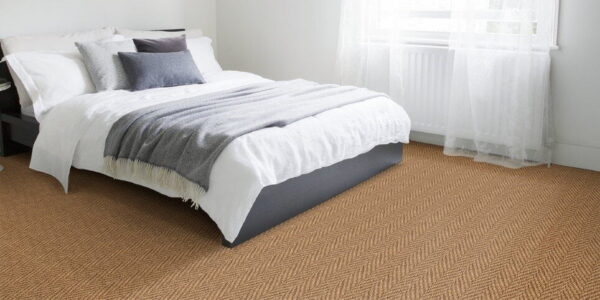 Credit: Alternative Flooring
Although this post started by highlighting how bad carpets are for the environment, not all carpets are created equally! It is correct that carpets made from cheap synthetic fibres are difficult to recycle and emit harmful fumes when incinerated.
On the other hand, carpets made from natural fibres, such as coconut husk (coir), jute, sisal and seagrass are all biodegradable and mostly chemical free.
Being made from woven materials you would be forgiven by thinking that solid, non-textile flooring is in a different league when it comes to durability. However, natural carpet is surprisingly durable owing to the impressively strong weaves that are used to hold the strands of fibre together.
Great as they environmental wise, natural carpets don't really look the best and aren't very comfortable underfoot due to the uneven texture the weaves create.
What to Choose
When choosing eco-friendly flooring the choice is down to preference. Cheaper options include cork flooring, natural carpet and bamboo all with options around £20 per meter squared. The cheapest eco-friendly flooring is definitely reclaimed hardwood, which retails at around $10 per square meter.
Marmoleum tiles a bit more expensive at roughly £30 per peter squared but the sleek design might make it worth it. Alongside Marmoleum sits glass tiles at anywhere from £30 to £80 and above per square meter.
It is a slight trade-off between price and finishes here. Marmoleum and glass flooring is a bit more expensive but both look fantastic. However, you can get fantastic results with bamboo and cork whilst recycling hardwood flooring can be an excellent project with fantastic visual results.